About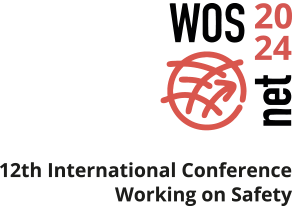 "Working on Safety – WOS" is an international network of decision makers, researchers and professionals responsible for the prevention of accidents and trauma at work.
The network aims to bring prevention experts together from all over the world in order to facilitate a high level exchange of experience, new findings and best practices between different countries and sectors. It will be an excellent occasion for representatives of H&S organisations, researchers, policy makers, safety professionals, labour inspectors, labour administrators and other experts in the prevention of occupational accidents and diseases to join in a permanent international expert network.
What to expect from the 2024 conference in Dresden
Safety meeting practice
Current case studies, measurements, research projects
Practice examples from industries
Successful implementations of Vision Zero in various industries
Nice and interesting people and a wonderful city
Interaction and lively exchange
We are looking forward to participants from the following fields
Researchers (young scientists are particularly welcome)
Safety and Health professionals
Safety practitioners from companies
Policy makers
Industry organisations
Labour inspections
Trade unions and employers
Standardisation bodies
Host
German Social Accident Insurance (DGUV)
The German Social Accident Insurance (DGUV) is the umbrella association of the accident insurance institutions for the industrial and public sectors (the BGs and the public-sector accident insurers respectively). It assumes responsibility for the common interests of its member institutions and promotes their functions in the interests of both member companies and insured individuals. The DGUV represents the statutory accident insurance institutions in their dealings with policymakers, regional, national, European and international institutions, and employers' and employees' representative bodies.
The mandate of the statutory accident insurance system (German Social Code VII) is
to prevent occupational accidents, occupational diseases and work-related health hazards with all suitable means.
to restore the health and performance of the affected insured individual with all suitable means after an occupational accident or disease.
to provide financial compensation to insured persons and their surviving dependants.
German Social Accident Insurance (DGUV)
Deutsche Gesetzliche Unfallversicherung e.V. (DGUV)
Spitzenverband der gewerblichen Berufsgenossenschaften
und der Unfallversicherungsträger der öffentlichen Hand
Glinkastraße 40
10117 Berlin
Project leadership
Sabine Herbst
Scientific organisation
Sabine Herbst (sabine.herbst@dguv.de)
Dr. Sven Timm (sven.timm@dguv.de)
Organisation Team
Phone:
Annelie Möstl: +49 30 13001 2021
Eva Windemuth: +49 30 13001 2423

E-Mail: wosnet24@dguv.de
Conference Language
The official language of the conference is English.
Committees
International Scientific Committee
Eirik Albrechtsen,
Norwegian University of Science and Technology (NTNU), Norway
Pedro Arezes,
University of Minho, Portugal
Lucie Kocurkova,
VSB – Technical University of Ostrava, Czech Republic
Tore Johan Larsson,
KTH Royal Institute of Technology (ret.), Sweden
Mary Ogungbeje,
Institution of Occupational Safety and Health (IOSH), United Kingdom
Joy Oh,
Ministry of Social Affairs and Employment (ret.), the Netherlands
Daniel Podgórski,
Central Institute of Labour Protection (CIOP-PIB), Poland
Christian Schenk,
AUVA, Austria
Annick Starren,
European Agency for Safety and Health at Work (EU-OSHA), Spain
Sven Timm,
German Social Accident Insurance (DGUV), Germany
National Scientific Committee
Chair: Sabine Herbst,
German Social Accident Insurance (DGUV)
Thomas Behrens,
Institute for Prevention and Occupational Medicine of the German Social Accident Insurance (IPA)
Klaus Schäfer,
German Social Accident Insurance Institution for the trade and logistics industry (BGHW)
Kay Schulte,
German Road Safety Council (DVR)
Silvester Siegmann,
Association for Safety, Health and Environmental Protection at Work (VDSI)
Armin Windel,
Federal Institute for Occupational Safety and Health (BAuA)
Marc Wittlich,
Institute for Occupational Safety and Health of the German Social Accident Insurance (IFA)
Hanna Zieschang,
Institute for Work and Health of the German Social Accident Insurance (IAG)
History
The "Working on Safety" conference has been organised since 2002
and took place in the following locations:
Zeewolde, the Netherlands